Debido a mi vaguería y a que últimamente ando muy excaso de tiempo no voy a traducirlo y copiaré y pegaré en inglés... pero arriba de la web tenéis un traductor que os ayudará algo a los que no entendáis muy bien.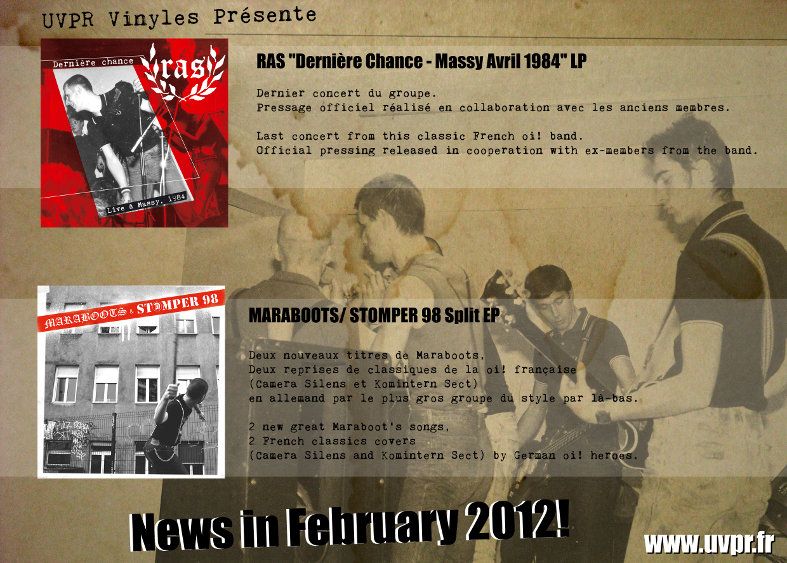 UVPRV22 - RAS "Dernière Chance - Massy Avril 1984" LP
Last concert from this classic French oi! band. Official pressing released in cooperation with ex-members from the band. Contain 2 unreleased tracks!
A bootleg was previously released but with a totally different cover, mastering and pressing quality, tracks selection. It last extract from a direct tape recording, with raw but energic sound.
LP: 17 euros post and paid
5 copies +: 9 euros post paid
UVPRV21 - Maraboots/ Stomper 98 Split EP
2 new great Maraboot's songs, 2 French classics covers (Camera Silens and Komintern Sect) by German oi! heroes.
EP: 7 euros post paid
5 copies +: 4 euros post paid

Both records together: 22 euros post paid (paypal at: [email protected])

The best way to order nowdays is to send an email and the paypal payement at: [email protected], as we have problems nowdays with paypal payements on the shop.
You can also order though Bandworm ( http://bandworm.de/shop/catalog ), it is ever available there.

You can see the covers, insert with good quality, and listen to MP3 on our websites: www.uvpr.fr and http://uneviepourrienvinyles.bandcamp.com/ , http://benjamos.free.fr/ .

New Maraboots video clip.
The Maraboots made their first video clip on the song "Crepuscule", extract from the new EP, check it on youtube !!
https://www.youtube.com/watch?feature=player_embedded&v=_nSwKQ4x-G0
If you understand a bit of French, you can also check the excellent blog/ webzine done by the members of the band: http://oivengeance.blogspot.com/

News RAS
RAS just repressed officially its classics album "84" and 7" "Rien a Signaler", for the first time with the original covers, excellent work from our friends Euthanasie records. These records are a must have!
You can order them directly to Euthanasie: http://euthanasie.records.free.fr or to us: 12 euros + postage for the LP and 5 euros + postage for the EP, ask us by mail for the postage costs.
Euthanasie made also a website from the band with nowdays interview from the ex-members, tons of archives and infos: http://euthanasie.records.free.fr/RAS/gaucheindex.htm

www.uvpr.fr
http://benjamos.free.fr/
http://uneviepourrienvinyles.bandcamp.com/
http://www.facebook.com/pages/Une-vie-pour-rien-Vinyles/116930225002130

Still available:

UVPRV20 The Daltonz "Suedehead Rock" LP + CD
UVPRV19 - The Headliners "Too Young to Fall in Love" LP + CD
UVPRV 18 - Maraboots EP.
UVPRV 17 – UVPRCD6- Bombardiers "Saraba Nakama" LP + CD.
UVPRV 16 – UVPRCD5- 8°6 Crew "Old Reggae Friends" LP + EP, CD.
UVPRV 15 – UVPRCD4- HardxTimes "Life is a Battlefield" LP, CD, LP + photobook.
UVPRV 14- V/A "Oi! L'album" LP.

UVPRV13- Gonna Get Yours "The hidden side of happiness" EP.
UVPRV12- The Headliners EP.
UVPRV11- Hardtimes "Demain nous appartient" EP.
UVPRCD3 - UVPRV 6- Hardtimes "We take shit from no one" CD/ DVD.
UVPRV 10- The Daltonz EP
UVPRV 9- The Rudes "Join The Army" EP
UVPRV 8- Lutèce Borgia "Long Live summer" LP/ CD
UVPRV 7 - The Janitors "Work" LP/ CD
Une vie pour rien? n°7 + EP
UVPRV 4- Lutèce borgia and The Janitors "Looting the pubs"
UVPRV 2- The Janitors "Bloody Boredom"
Une vie pour rien? #6 (without EP wich is sold out).
Lutèce Borgia "Choose" MCD.