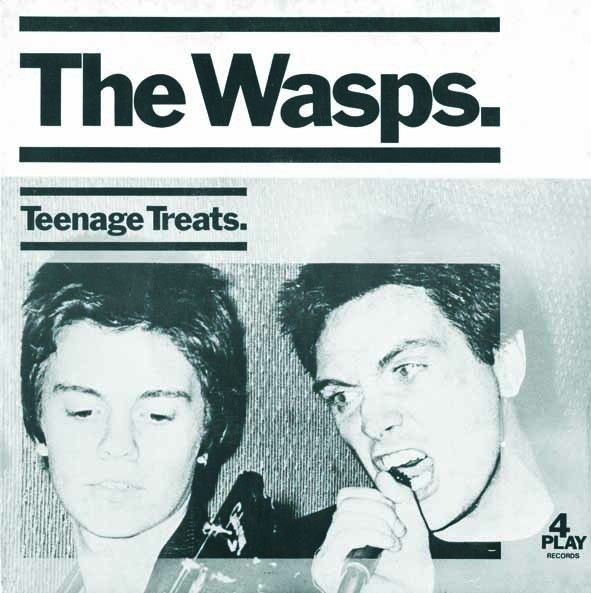 PAR-016 THE WASPS - TEENAGE TREATS 7"

The Wasps fueron un cuarteto de Walthamstow, formados febrero de 1976.
La formación original era Steve Wollaston al bajo, John Rich a la batería, Del Mayon a la guitarra y Jesse Lynn-Dean a la voz, pero Del May abandonó (pensaba que el punk no iba a ningún lado ¿estaba en lo cierto?) y fue sustituido por Gary Wellman, que hizo también de técnico de sonido en la grabación del single.
Antes del lanzamiento del single en noviembre de 1977, fueron una de las primeras bandas de punk en girar por todo el país, siendo especialmente memorable un concierto en Shrewsbury, donde fueran etiquetados como depravados, adivina por qué…
Era la época en la que el punk salía en los periódicos.

"Teenage Treats" fue radiado intensamente por John Peel, que dijo que era una de sus canciones punk favoritas de todos los tiempos.

Si alguna vez intentas describir lo que es un "One Chord Wonders" ¡¡sólo pon Teenage Treats !!

País: UK
Año: 1977 / Fecha de reedición: 11/2014
Sello: Four Play Records.
http://www.parameciumrecords.com/index.php?id_product=161&controller=product&id_lang=4
The Wasps were a quartet from Walthamstow, formed in February 1976.
Originally made up of Steve Wollaston on bass, John Rich on drums, Del Mayon guitar and Jesse Lynn-Dean on vocals, but Del May quitted (he thought that punk would get nowhere, was he right?) and was replaced by Gary Wellman, who was the soundman too in the recording of the Teenage Treats single.
Previously to the release of the single in November 1977, they were one of the first punk bands to tour nationally, being specially memorable, a gig at Shrewsbury, after that they were labelled as "depraved" by the Shrewsbury council, figure out why….. It was the time when the punk was in the newspapers.
"Teenage Treats" got a lot of air-play from John Peel who said it was one of his all time favourite Punk songs,
If sometime you try to describe what is a "One Chord Wonders" just play Teenage Treats!!

Country: UK
Year: 1977 / Reissue date: 11/2014
Label: Four Play Records.
http://www.parameciumrecords.com/index.php?id_product=161&controller=product&id_lang=4